Heavy Duty Locking Steel Swing Barrier Arms
Protect access to your property by unauthorized vehicles after hours with swing gate barriers. Stop thieves from driving up to "smash and grab" or stop illegal dumping on your property by barring access to their vehicles.
Swing gates can be single arm or double swing arms. They are installed on steel concrete-filled bollards, set in concrete. Typically we paint them safety yellow for visibility but they can be painted to match your building's colour scheme also.
They are a cost effective and relatively maintenance free way to control traffic entering your property compared to other automated gate solutions.
Protected Padlock Shrouds
Every security measure is only as string as its weakest link. We build steel shrouds around the padlock clasp to better protect it against forced intrusion. We can also install a secondary post that enables you to lock the gate open during the day as opposed to letting it swing freely.
We can also supply you with heavy duty or high security padlocks if needed. There are many higher grade padlocks available that we can rekey to existing building keys (master key systems) you may have.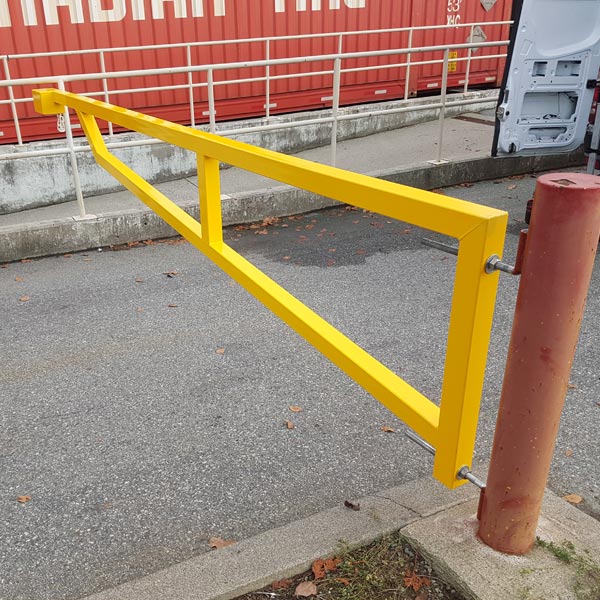 Height Adjustable Hinges
Over time, all gates will settle and sag somewhat. We can install adjustable hinges, allowing you to adjust the height of the gate to the locking post as things settle over time. This prevents the gate from becoming difficult to open or close, and ensures smooth operation for many, many years.
Steel framing can be in square or round tubing to match other metal fabrication detail work at your property.
Traffic Barrier Gate Locks
From padlocks to self-latching locks, you can get a wide variety of customizations to your traffic barrier gates. All locks are built with security in mind as they are generally the weakest link in your barrier gate's security. Welded, heavy-gauged steel, with protected pry points is standard on all our gate locks.
Over-Height Traffic Barriers
Over-height vehicles can cause significant damage to a property when entering an underground parking garage. They can damage piping, lighting, and other fixtures.
And patrons sometimes do not have awareness of their vehicle height, driving right through maximum clearance bars and signage. Heavy duty barricades can help stop vehicles before they cause severe damage to the property.
Traffic Barrier Gates Gallery