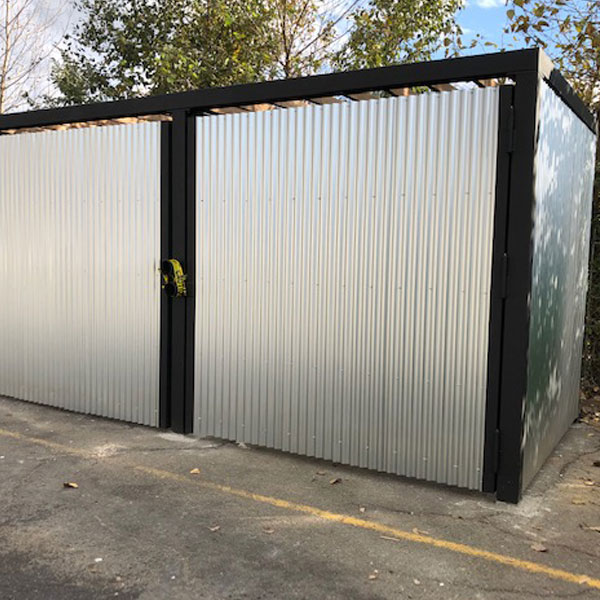 Secure Garbage Enclosures
Our highly secure garbage enclosures help protect your property against illegal dumping and dumpster diving that can create significant problems at your property, and attract people who cause additional damage such as graffiti, vandalism, and break-ins.
Less secure garbage enclosures are not a deterrent and are often broken into.
Our high security garbage enclosures feature:
Heavy duty protected locks and latch hardware
All steel framing set in concrete
Galvanized or factory painted steel siding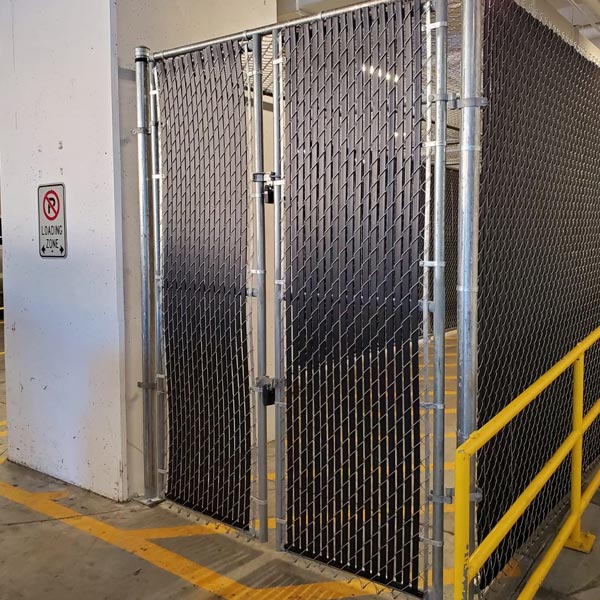 Chain Link Garbage Enclosures
Chain link fencing garbage enclosures are an easy and cost effective solution to keep your garbage area contained. They can be constructed inside parkade areas or outside on the property. We can build them with a variety of options;
Galvanized or black mesh
Large double swing gates for bin access
Black vinyl privacy slats
Frost-free latches for padlocks
High security galvanized expanded steel mesh
Integrated mesh top for pest control
Steel Frame Garbage Enclosures
Steel frame garbage enclosures offer a more robust design against damage from garbage trucks and heavy bins hitting them. They also offer a more refined design aesthetic.
Our steel frame enclosures can be constructed with any number of bays you need and feature 5 x5 inch heavy duty steel posts and framing. We cover the framing with cedar planks which can be left natural or painted. These enclosures have a treated lumber frame on top with light mesh to allow for odors to exhaust and also keeps birds and other pests out.
Steel Bar Garbage Enclosures and Gates
For existing garbage enclosures, we can help you upgrade your security on them by adding steel or aluminum gates. Many older enclosure designs are built with just three walls to enclose the area, but are open access, allowing dumpster divers or illegal dumpers to get in and make a mess of the area.
These kinds of areas can be made secure with barred gates and padlocks with padlock shrouds to control access.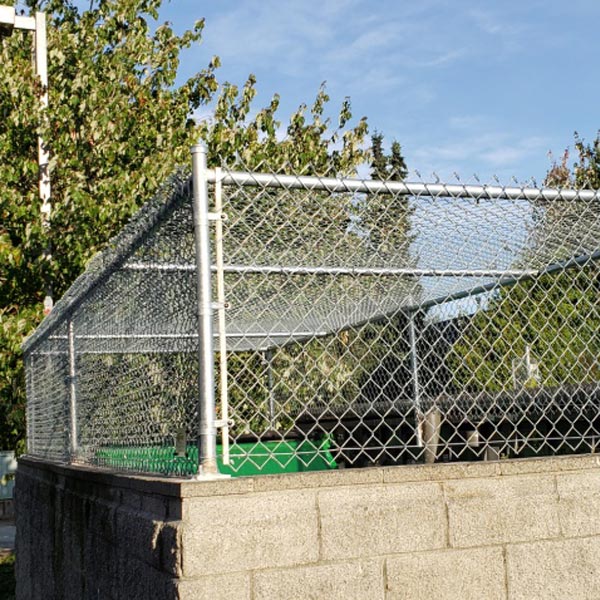 Secured Roof Garbage Enclosures
A lot of enclosures are designed with no roof or top. This provides access to birds and other pests, as well as unauthorized persons. We can build a secure mesh top using chain link or steel bar that helps keep them out, but does not require more complex permitting or construction techniques needed for an actual "roofed" structure.
Mesh or barred tops help give you a top to bottom, secure enclosure.
Bear Resistant Garbage Enclosures
In many areas around the Vancouver Mainland periphery, having a bear-resistant garbage enclosure is essential.
We make new and can often upgrade existing enclosures to keep the bears out. These enclosures feature heavy duty steel bars in an 8″ x 8″ matrix, and heavy duty locking hasps. They also feature a fully enclosed roof to prevent bears from climbing up and into the enclosure.
Garbage Enclosure Upgrades
Some garbage enclosures can be upgraded to enhance security and ensure ease of access. This brick enclosure originally consisted of just 3 walls to provide a space for the bins, but no security.
The enclosure was fully enclosed with a roof and steel door to keep vagrants out.
For ease of access for tenants, a push-button lock was added to the door, making it easier to access than using a padlock. The combination lock also gets rid of the need for managing keys with all the tenants.
Garbage Enclosures Gallery