Protective Guards for Sensitive Equipment
One of the biggest issues with a lot of building equipment is the cost to repair or cost of secondary damage when something is accidentally hit. We fabricate and install guards with custom sizes and shapes to fit every unique situation.
These kinds of guards are great for protecting fire sprinkler heads and other sensitive equipment in warehouses, commercial spaces, underground parkades, and other areas where equipment needs to be protected from forklifts, pallet jacks, and other vehicle hits.
Crash Guards for Equipment
Protect your equipment from accidental damage by forklifts or pallet jacks with heavy duty steel guards. These guards are ideal for warehouses, loading docks, and other areas where mobile equipment may hit installed equipment.
We can custom fabricate a guard to fit a number of installation requirements including;
Size of the area to be protected
Available anchor points for installation
Accessibility needed to service the equipment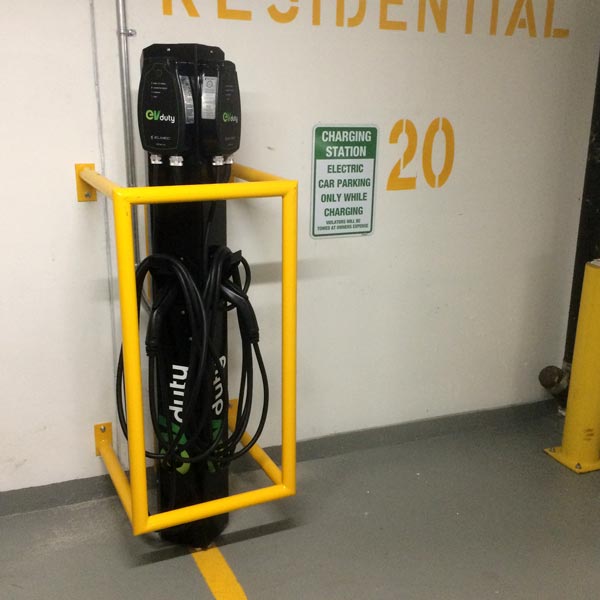 Steel Protective Guards for Electric Vehicle Chargers
As more and more EV chargers are installed in commercial and residential buildings, more and more EV chargers get hit by vehicles. Steel roll cage guards can be custom fitted for your EV charger to protect it against damage from vehicle hits.
These guards protect the equipment from costly damage and make the area safer by ensuring the integrity of these high voltage electrical chargers. There are many makes and models of chargers, so we ensure your guard is designed to allow accessibility to the access panels for EV charger service technicians.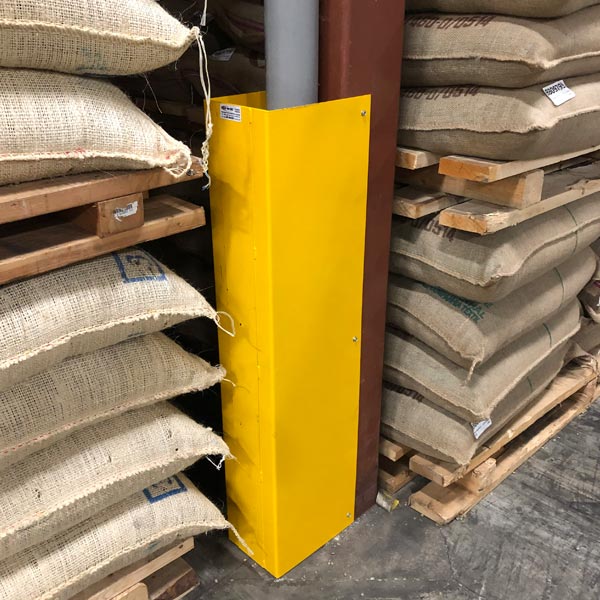 Roof Drain Guards
Most warehouses and large commercial spaces have interior roof drain downspouts that are vulnerable to getting damaged by forklifts or other equipment. Surrounding them with a high visibility heavy steel guard is the best way to prevent damage and possible flooding of the space if the downspout is damaged during rainy periods.
Control Panel Guards and Locking Guards
Guards can also provide security against tampering or misuse in addition to protecting against physical damage. A lot of commercially available lock boxes or cabinets are constructed from thin sheet metal or have limited size availability.
Our fabrication shop can design a heavy duty steel guard or cabinet using an assortment of lock types and construction styles to make sure you get exactly what you need.
Safety Guard for Ground Mounted HVAC
For heating / cooling units installed at ground level, there are three challenges that we can address with a safety enclosure:
Secure the HVAC unit against tampering or theft of copper wiring / metal
Safeguard the HVAC unit against vehicle hits, and separate it away from landscapers or the general public
Provide accessibility to the HVAC for service by technicians
Whatever your challenges are for protecting your building equipment, we will craft a solution that meets those challenges to ensure safety, security, and accessibility.
Parkade Pipe and Equipment Guards
Low ceiling parkades or covered parking areas can be at risk of having piping or other ceiling mounted equipment damaged. Even with maximum clearance bars, vehicles that are too high will sometimes try to "get through".
If hit by a vehicle, equipment installed in underground parkades can cause a shut down in building services such as water, drainage, or HVAC systems, as well as expensive damage.
We can help you protect this equipment with heavy duty steel guards and skid plates, painted safety yellow to draw attention.
Hose Bib Security Guard
Prevent tampering or unauthorized use of exterior water taps and hose bibs. Heavy gauged steel with padlock clasp. Anchored to the wall around the hose bib, and door covers access to the anchors.
These guards can be made in all different sizes and using different locking methods (padlock, puck lock, deadbolt) to fit your situation.
Custom Heavy-Duty Equipment Cabinets
Custom sized equipment cabinets with heavy duty puck lock for security.
We fabricate custom cabinets to your specification. All cabinets have NRP (non-removable pin) hinges on the doors and can be made with a variety of heavy duty locks. This one has a shrouded puck lock.
Secure storage cabinets can also be anchored in place for additional security.
Heavy Equipment Guards
In addition to safety guards, some equipment requires accessibility for maintenance purposes.
This catwalk railing for a generator has quick-remove pins so the railing can be removed when the equipment is down for maintenance.
Maintaining accessibility at the right time is an important part of all the design process for all the custom guards we fabricate and install.
RiskCheck Guarding for Building Equipment
Safety audits for your buildings by companies like RiskCheck will often call for upgrades to motor and equipment guarding. The additional guarding can be complex depending in the equipment.
We design, fabricate and install additional guarding for equipment. And we work with your maintenance staff and providers to ensure the guarding will both comply with RiskCheck requirements, and be accessible for maintenance when needed.
Equipment Guards Gallery