Security Enclosures
In general security enclosures are for protecting areas against intrusion, vandalism, and loitering. They can be made in steel or aluminum, depending on how they are constructed for the particular application.
The enclosure doors can be outfitted with a number components including push bars (for emergency exit), anti-pry astragals, hydraulic door closers, and NRP (non-removable pin) hinges. All enclosures feature a powder coated finish in basic black or custom colours if needed.
Each one is custom designed and fabricated to fit the space it is meant to protect.
Security Fences
Security fences in aluminum or steel are great for protecting larger areas such as;
Property perimeters
Walk-on rooftops
Outdoor storage areas
Other secure areas
Fences can be access with a simple padlocked gate, and they can be installed on existing concrete structures such as tilt-up slab walls or pony walls. We can also set them up with in-ground concrete footings.
Stairwell Enclosures
Stairwell enclosures are specifically meant to add another layer of security to your property. They also protect exterior stairwells from loitering or sheltering.
Usually they require emergency exit hardware and can be designed as exit-only, or with access to enter via key or fob (tied into your existing access system).
High Security Expanded Steel for Chain Link Fencing
Chain link fencing is easy to cut through and doesn't offer much protection these days. A good way to utilize your existing chain link fencing is to change out the mesh to a higher security galvanized expanded steel sheeting. Usually this involves welding extra horizontal bars to the existing structure and welding the expanded steel to the posts and cross bars.
Additional protection such as galvanized flat bar, welded horizontally and vertically onto the framing can increase the protection against thieves, vandals, and trespassers even more.
Secure Doors and Gates for Enclosures
Each enclosure and gate or door has its own unique design requirements, and its own unique security requirements. We build many solutions to ensure your security enclosures give you both the access and protection you need.
We can add security enhancements to push bars, locks, lever handles, knobs, padlock clasps, and the latch side of the door. We've seen a great number of break-ins and are always developing new ways to protect against the various attacks on gates and doors that we see.
Safety Enclosures for Machinery
Many properties have legacy infrastructure for their equipment that requires better safety guarding as regulations change. We can make whatever custom guards or enclosures you need to meet compliance for;
Worksafe safety guidelines
Risk check assessments
Protection against forklift damage
We'll work with you to make sure you have a practical solution to ensure your personnel, your equipment and your facility remains safe.
Alcove Security Bars
Open alcoves, decommissioned service doors, and other insets that provide enticing shelter for loitering and other mischievous activities can be closed up using security bars and gates. Securing these areas helps to create a "smooth surface" perimeter for your building to take away the opportunity for vandalism, illegal dumping, break-ins, and other illicit or damaging activity.
Alcove bars can be permanently anchored fencing, or locking gate style enclosures allowing authorized access when necessary.
Anti-Climb Wall with Anti-Climb Spikes
This anti-climb wall is fabricated and installed to prevent thieves from climbing over the railing to the adjacent enclosure roof. It features a steel frame and smooth steel sheeting with anti-climb spikes at the top. Welded and anchored in place.
Nikls Metal Works builds many "smooth surface" structures, designed to inhibit climbing and minimize weak points than can be smashed through to gain access.
Storage Enclosure Security Upgrade
Let us know if you have an existing structure that requires a security upgrade and we will find a solution for you. This open top storage enclosure has secure walls and gate, but the top was accessible and had been broken into many times.
We welded additional steel bars in place to close up the access to 8″ x 8″ and stop unauthorized access to the enclosure.
Always Innovating and Upgrading Our Designs
These 2 alcove security gates show the evolution of design. On the left is a more classic steel bar construction with steel skin. While it is secure, in some circumstances it may provide climbing opportunities or weak points that can potentially be broken through.
On the right is a smooth surface design. There are no points to get a foot hold on to climb. It also features a code compliant exit-only push bar inside, with no weak points to smash attack on the exterior. It's critical to always be innovating and improving on great designs.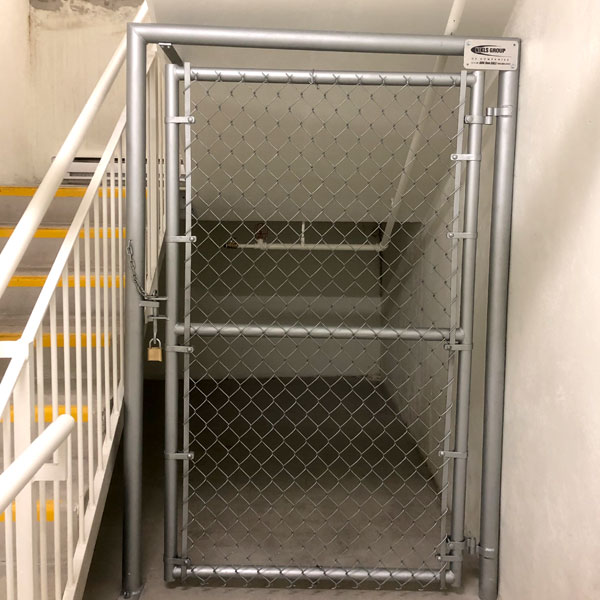 Stairwell Crawlspace Enclosure
Available in various materials and construction styles, the crawlspaces at the bottom of building stairwells can be protected with a gated enclosure.
These areas are commonly used to store stolen goods, hide out inside a building until it closes, or by vagrants that gain access to the building after hours. Securing these areas helps with the overall security of your property to stop these kinds of activities.
Area Security Enclosures Gallery